A Day in the Life of a Chubb Insurance Channel Performance Professional
My role consists of me visiting EE Retail Stores & BT Contact Centres across a designated territory, delivering sales training and performance coaching. In my case, I cover 80+ stores across Manchester, North Wales, North West, and Yorkshire. As you can imagine, not every day is the same.
I work in a data driven industry, so I'm visiting stores based on performance. Where I will be from one day to the next, does differ quite a lot. I tend to know what stores I will be visiting a week in advance. We receive sales data on a Monday and a Thursday, the latter helping me plan my week in ahead. However, the Monday sales data can influence my movement elsewhere if necessary.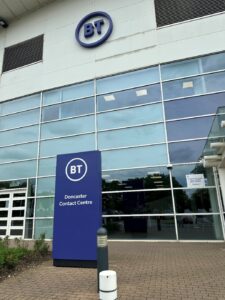 Typically my day begins as most folks do; when the alarm goes off. I book my visit in online with my chosen stores for the day so they're aware of my visit. In this way I'm following my end of the bargain by following EE procedure. Then I drop my children at school for 08:45am and head out for the day.
I need to visit 2 stores per day as a minimum. This is a very practical number, allowing me to concentrate on the quality of the visit that I am conducting. Most visits are ad-hoc because there isn't always the opportunity to organise training sessions with stores due to staffing numbers. In some cases I can arrange properly organised sessions for new store openings, after hours sessions and new staff members. However, these are few and far between, so I rely heavily on the relationships that I foster in store to be able to do my role to the best of my ability.
Arrival & Performance Coaching
Once I've arrived at store, I check in with the Guide/Senior/Manager on the podium at the front of the store. Despite using a booking website to book in with them, sometimes the store isn't aware of my visit. In most cases I am known to the members of staff. However, sometimes when I tell them I'm from Chubb I get confused for the Fire Alarm and Extinguisher company!
At this point I try to find the most senior member of staff available on the shop floor. Sometimes the most senior member of staff is otherwise engaged and not on the shop floor. In this case, I conduct my business with whoever is available at the time.
Then I have business conversations around how the store and area is performing. I ask them how they feel business is currently going. Then we drill down even further to discuss how individuals are performing in store. I operate on a premise that those below 15% insurance attach need some kind of attention, usually performance coaching. I firmly believe that sales is a confidence business and my job is to give those in store the assurance to sell the product ethically, compliantly and with confidence in what they're offering to the customer.
Concluding the Store Visit
In some but not all cases (dependent on store busyness) I will sit down with members of staff and walk through a PowerPoint deck that I have put together. This highlights Policy F&Bs, Costs, T&Cs, Do's and Don'ts, and most importantly – how to offer it to our customers.
Once I've conducted business in store, I check in again with the senior member of staff on the shop floor. I check whether they have any questions, summarise what I've been through, and provide my details before leaving the store. Usually visits take 45 to 90 minutes, but I've been in stores for as long as 2-3 hours before now.
I then take an hour out for my lunch where I can switch off, have something to eat and read my book. I believe that wellness is very important in life, so I always take my lunch hour where practical. It's then a case of doing the same in the afternoon. In some cases I will do more than 2 visits in a day. This is determined on a day-by-day basis by priority and whether there is enough time.
On some days I devote time to my admin duties. These include; pulling together weekly reports for the team (there are 7 of us in the UK), creating a slide for our Friday call, sending updates out to my regions (I do this twice a week), and generally dotting the I's and crossing the T's for the weeks' business. There are a lot of tasks to keep on top of, but it certainly keeps me occupied!
Finally, I aim to get home between 4pm-5pm each day. This depends on where I have been that day, as travelling is very time-consuming. If I am early enough, I will send a few updates around to my regions to box that days' business off.
That is a day in the life of a Channel Performance Professional!
by Kieran Stidworthy