Since September the 5th is the International Day of Charity, this is the perfect opportunity to highlight the Employer Supported Volunteering Policy here at infinite.
Jenny made use of the volunteering leave days available to infinite employees, when she attended a summer conference/festival as a youth leader with her church youth group.
Here is her account of a day on camp:
A Day in the Life of a Youth Leader on Camp!
I volunteered as part of a team of 7 youth leaders, taking our 40-strong church youth group to Newday.
Newday is a 5-day Christian conference with a festival feel, for church youth groups from across the country. Approximately 9000 teenagers gathered to camp at the Norfolk Showground, and explore the Christian faith for themselves.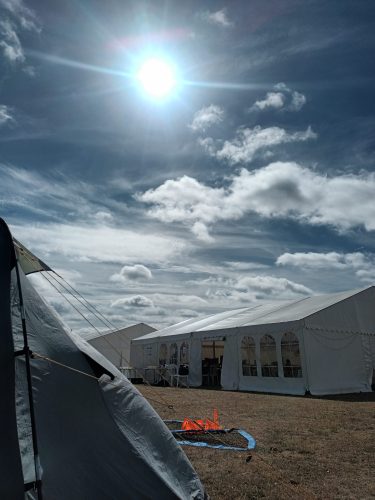 The day starts at 7am, which feels early for teenagers and youth leaders who are existing on a few hours of sleep per night. We leaders roll off our camp beds and meet before breakfast to plan for the day.
Lay-a-beds still curled up in their sleeping bags are loudly woken up at 8am by singing and pans being vigorously bashed by a ladle.
Part of our role as we safeguard the teens, is to ensure that everyone has eaten a substantial breakfast.
A highlight of the week was a cooked breakfast on a well-earned lie in morning.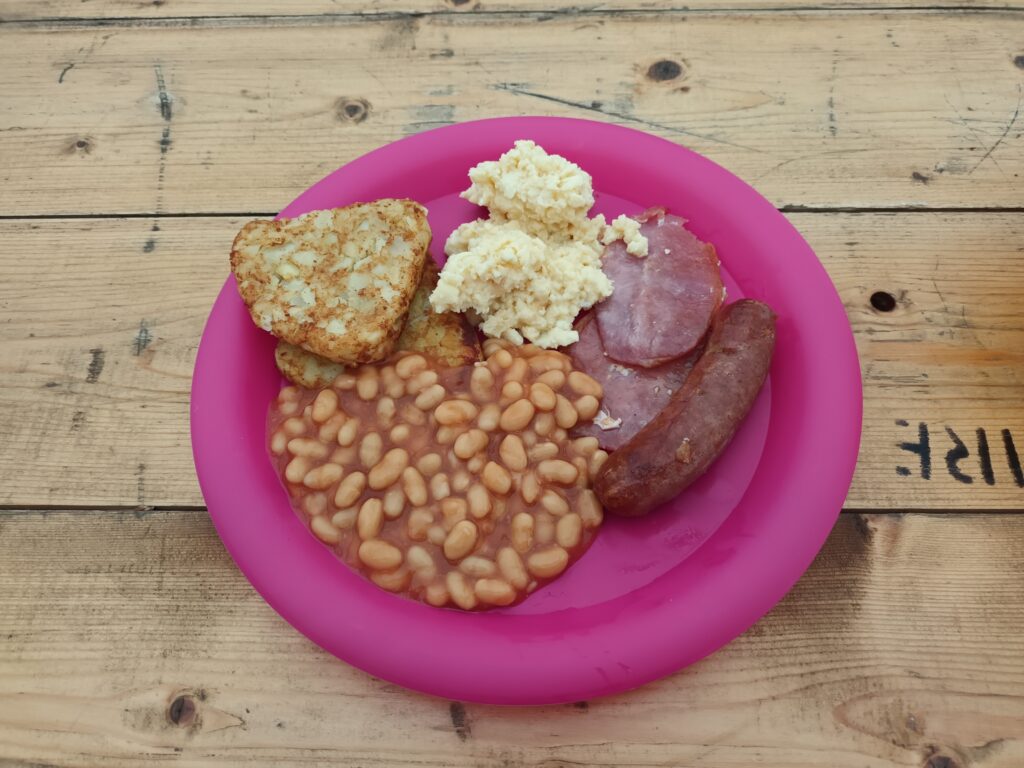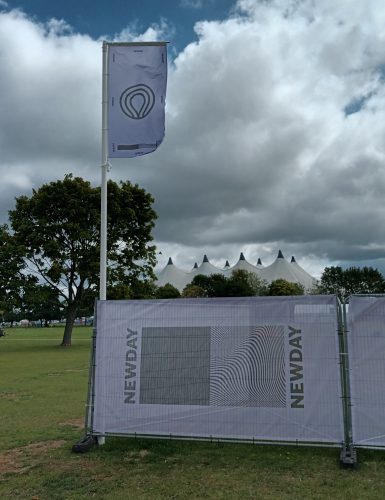 The younger teens head to the massive sports hall for a morning of teaching, songs and a hefty amount of silly and messy games. Seats too near the front are to be avoided as they are in the splash zone. I attended each morning with a little trepidation and fear of getting volunteered for a game, but thankfully escaped unscathed!
The older youth head to the big top for their own similar meeting, but with a little more serious content and without all the silly games. With double the space compared to an evening meeting, it's tempting to sprawl and "close your eyes while you listen". So, youth leaders spend a fair amount of time gently poking teenagers awake.
After the morning meetings, we return to camp for custom-made sandwiches provided by volunteers from the church who have come along to keep us fed.
An afternoon of free time follows this. Our teens drift off to sports tournaments, the open mic shed and VR gaming stations. Or brave the long lines for a portion of chips, waffles or a refreshing milkshake.
The more experienced campers know that this is the time to get a shower. Unless you actually like queuing for the privilege of washing in cold water in the early hours of the morning!
By Thursday we find people napping, as the late nights, early mornings, and whole days in the fresh air catch up with all of us. Not forgetting the unusual exercise; as you can see, we were averaging around 16000 steps a day!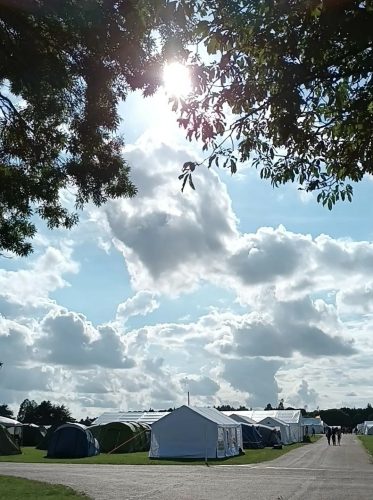 A delicious dinner is dished up by our wonderful volunteer chefs, and then we embark on the mayhem of post-dinner wash-up. You would think it's intuitive that dishes can't be washed in dirty water or that you should avoid dunking the tea towel in the water. But no, these things have to be taught!
Then it's all hands on deck as we leaders gather everyone ready to go to the main evening meeting. It's like herding cats getting everyone ready to trek across the campsite to the big top. "Do you have your cushion, water, jumper, and torch, yes the sun's shining now, but it'll be dark later!".
It's a long walk back to your tent if you forget something!

The evening meeting has party atmosphere with warmup DJs entertaining the crowd as it takes fully 30 minutes to get everyone into the big top. 
With thousands of teenagers squeezing into the tent, it pays to get there early enough to grab a good spot; not behind a pillar, within good view of the stage or a screen, and close to a breezeway.
I spent most of my evenings in the accessibility space, with some of our teens who find the bright lights and high volume too overwhelming. 
Here, the big top meeting was live streamed for us, with a much lower sound level. There were beanbags, cosy lighting, and enough space to get out a sketchbook.
Following the meeting, the teens are free to explore the concourse until site curfew. Excess energy is expended in the dance party or on the bumper cars. Alternatively, those who want to extend the meeting wend their way to the prayer space.

Late at night we draw the youth back to our marquee with biscuits and hot chocolate. Then send them to prepare for bed. As lights out draws near, the teens regularly forget that tents are 0% soundproof, and converse on topics they had rather keep private!
After many reminders, and adding those being extremely disruptive to the next days' chores team, the campsite is eventually quiet. 

Finally, we leaders stumble across the moonlit camp to prepare for bed. Then we snuggle down in our sleeping bags to sleep, ready to go again the following day.
It was such a rewarding experience volunteering to serve the youth group on camp.
How about you? What's your passion? 
Is there a charity or cause close to your heart which you could volunteer for?